The Aftermath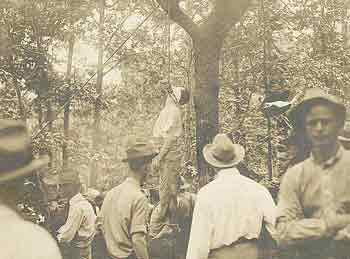 When Leo Frank was lynched, about 1,500 Jews, half of Georgia's population of Jews, left the state. Many southerners believed that he was guilty and thought he deserved the punishment that he was dealt. Some members of the lynching revived the KKK, and had an innaugurational mountain top meeting in 1915. This revival was lead by William J. Simmons, and was attended by many of the original members of the Klan as well as members of the Knights of Mary Phagan.
In 1982, Alonzo Mann came forth with information about the murder. He claimed that he saw Jim Conley dragging Mary Phagan's dead body. Mann, as a 13 year old, had sworn, because of a death threat by Conley, to keep what he'd seen a secret. Mann died in 1985. The Anti-Defamation League convinced the Georgia Board of Pardons to grant Leo Frank a posthumous pardon after hearing Mann's testimony. Leo Frank was issued a pardon in 1986. In 1983 he had been denied this pardon but the state did admit that they had not kept him safe while he was in their custody.
Even today Mary Phagan's family continues to believe Leo Frank raped and murdered her, even after Conley's repeated confessions were revealed. They dissassociated their ties with the Klan, so that her murder could no longer be used as a purpose of hate crimes towards jews. Mary's niece, also named Mary, went on to write a book about the case. Several stage productions have been written and performed about this terrible case of injustice, corruption, and murder.
page revision: 1, last edited: 03 Mar 2008 16:23